BINSniper® is a Firefox Browser Add-on
Real-time alerts of new product listings.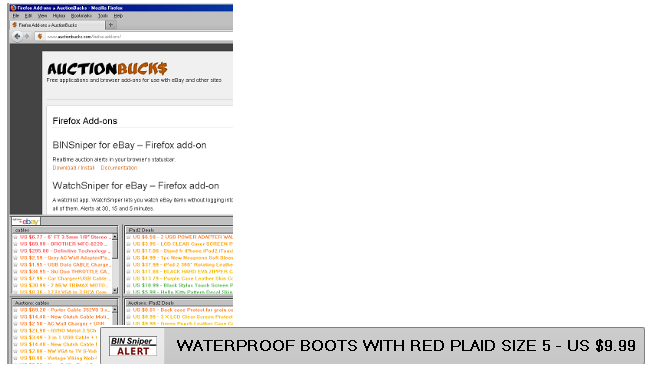 Currently listing items from eBay and Bonanza.com, more to come.
Real-time alerting on new listings
Sound, popup, and email alerts
Set your own search parameters
Track multiple searches
Mobile email alerts supported
Multiple display modes
Alerts for auction-style listings ending soon
Alerts for fixed price and buy now listings
Auto-stop or switch to email when you're away
Heatmap color display indicates listing age at a glance
High speed for resellers buying in fast categories
Low bandwidth, high speed
BINSniper® is a registered trademark of Tech-World, Inc. Buy-It-Now is a trademark of eBay.
Auction sniping is placing a bid in the last seconds to get the lowest price.
BINSniper® helps you to get deals on ending auctions and new Buy-It-Now listings too.